His Shoes, oil on canvas, 8 x 48", Sold
Prints available!
Limited Edition Prints
Printed on Paper 6 x 36" $60 each
Printed on Canvas 8 x 48" $120 each



Her Shoes, oil on canvas, 8 x 48", Sold
Prints available!
Limited Edition Prints
Printed on Paper 6 x 36" $60 each
Printed on Canvas 8 x 48" $120 each

Shoe Portraits
The shoes above are inspired by closets full of running shoes that have kept us on our feet through training and races. If you have a pair or pairs of shoes that you would like to immortalize into a fantastic painting close to your heart, let me know and we can make that happen.
It is a great way to save the shoes without all the clutter and smell!
Click here to contact me for more information on Shoe Portraits.


Family Shoes, Oil on Canvas, 12 x 36," Commission

This family walked their first 1/2 marathon and these were the shoes that helped then finish with great success! Fantastic memories have been preserved and a fabulous original painting now hangs in their home.
Running Portraits
Often times runners have a favorite place to run or a scene that remains in their memory for a particular reason. These scenes, as well as a stylized image of the runner can be preserved in an heirloom oil painting to admire provoke great memories for a lifetime.
Click here to contact me for more information on Running Portraits.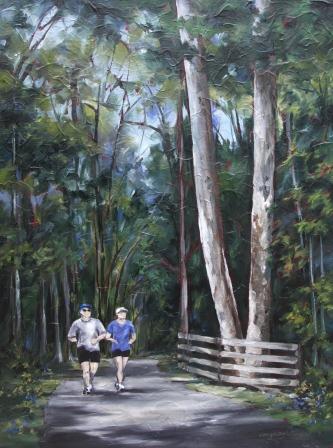 Summer Run, Oil on Canvas, 18 x 24," Commission
This couple met while running and have since married. This particular scene is one that they see often while running even years after they tied the knot!